Posted By Elgin Hushbeck
Tom's father had died a couple of years earlier in an accident, leaving a wife and four children. It was the middle of the depression and times were tough. Tom, being the oldest, worked while finishing High School, to help make ends meet. After he graduated, he joined the military, and after training was sent to Nicholas Army Air Field in the Philippines. There he did what most military people do: perform their normal jobs while periodically being interrupted by various drills.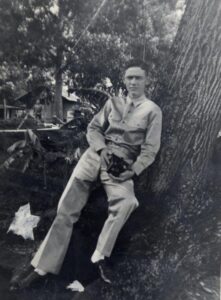 Tom could see the approaching storm that would become WWII and mentioned this in his letters home. He wrote of how they had received a shipment of fighters, but that they were in crates and needed to be assembled. They were still assembling them when the war started on December 7,1941. The Japanese invaded the Philippines the next day. Tom and the rest of the troops, along with their Filipino allies, fought valiantly. With their base destroyed they, retreated to Bataan.
Roosevelt promised reinforcements, so they struggled to hold out till they arrived. In March Roosevelt ordered MacArthur to leave and go to Australia. Tom and the rest of those left behind continued to fight on, till they could be reinforced. But in the end, there was no way to win. The promised reinforcements were never sent; food and ammunition ran out; and the Japanese force was too strong. Yet still they fought to hold out. Then their positions were overrun, and on April 10, 1942, exhausted, starving, wounded and sick (most had malaria and/or dysentery), they surrendered.
But as horrible as their ordeal had been, the worst was yet to come. The Japanese commander had ordered provisions be set aside for the expected 25,000 prisoners. But he was unaware that the real number of captured Americans and Filipinos was more than 75,000. Nor was he aware of just how bad their condition was. They had held out as long as possible and so when they did surrender they were in very bad shape. In short, the provisions he ordered to be set aside were nowhere near what was needed, and the Japanese army command structure did not allow for questioning orders, even to correct mistakes in information.
To make matters worse the Japanese viewed surrender, whatever the circumstances, as a dishonor. Thus it did not matter how valiantly they fought, how long they had held out, or how low they had been on food and ammunition, they had surrendered and did not deserve to be treated honorably. Since there were not enough trucks to transport all the them, what came to be called the Bataan Death March began.
Tom was not one of the lucky few whose guards, realizing how inhumane the situation was, just let their captives go. Even though he was sick, he was forced to march the 30 miles in the blazing hot sun to the rail center. Most had no food or water for the march. There was no stopping, and many were beaten. Many just died on the road; others were shot if they did not keep up. If Tom was fortunate, he would have still had shoes. Many didn't and their feet burned as they walked on the hot asphalt as it baked under the sun.
At the rail head in San Fernando Tom and other prisoners were pushed into rail cars. Because of the large numbers of prisoners, they were packed in as tightly as possible and in the hot sun, the metal walls of the cars burned unprotected skin. Many lost consciousness from the sweltering heat of the boxcars. Others suffocated in the cramped space. Yet they were packed in so tightly, the unconscious and the dead remained standing until the cars were unloaded at Capas.
Tom survived the trip to Capas. From there Tom was once again forced to march the last eight miles to Camp O'Donnell. Suffering from sickness, starvation, and exhaustion, Tom only lasted five days in Camp O'Donnell, dying on May 18th, 1942. He was 22 years old. Later Private Thomas A. Hushbeck would be posthumously awarded a Purple Heart.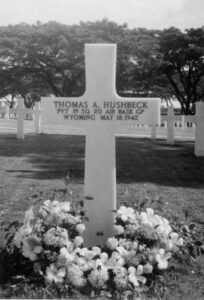 When people ask me what Memorial Day means to me, I think of my Uncle Tom, even though he died thirteen years before I was born. For me it is his holiday, but not his alone. There were the eight who died on Lexington Green in that first engagement of the Revolutionary war, and all the others who came after them to secure our independence, along with those who gave their lives in the War of 1812, the Civil War, the Spanish-American War, World War I, World War II, the Korean War, The Vietnam War, Gulf War I and now the war on Terrorism in Iraq, and which continues in Afghanistan, and that is just to name the major conflicts.
Whenever there was a need, Americans like my uncle Tom have step forward, knowing what may happen. Like my Uncle Tom, many have paid the ultimate price so that we can live in freedom. Many may consider "Freedom is not Free" a cliché, just another slogan for a bumper sticker, but the cost of our freedom was paid by my Uncle Tom, and all the others who have in the past, or will in the future give their lives in defense of this country. It is for them that we fly the flag on this day. It is because of them we can enjoy the time off and relax on this day. They have given all that they had, and suffered in ways we can never imagine so that we might live in freedom. So while I enjoy the day, I will remember them. For they deserved to be honored and remembered.